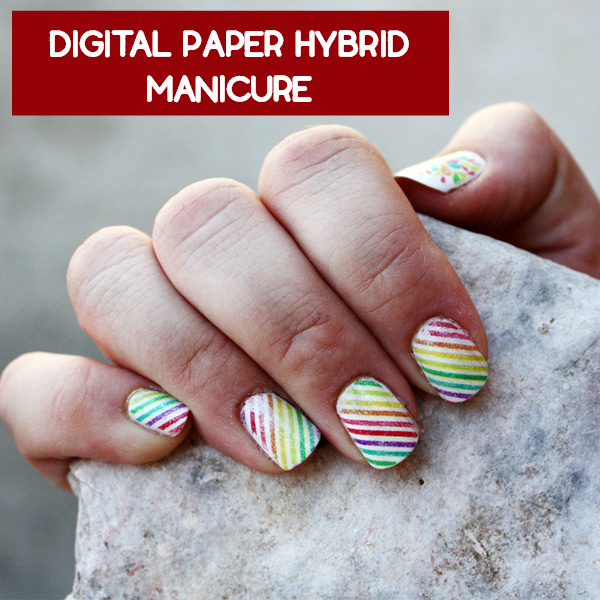 Pinterest is a great source for nail art and one product that is hot are adhesive nail polish strips with funky designs and bold colors. But they are also a bit pricey.  So, here is a DIY crafty alternative. Get out your digital scrapbooking supplies or digital papers and make a hybrid manicure!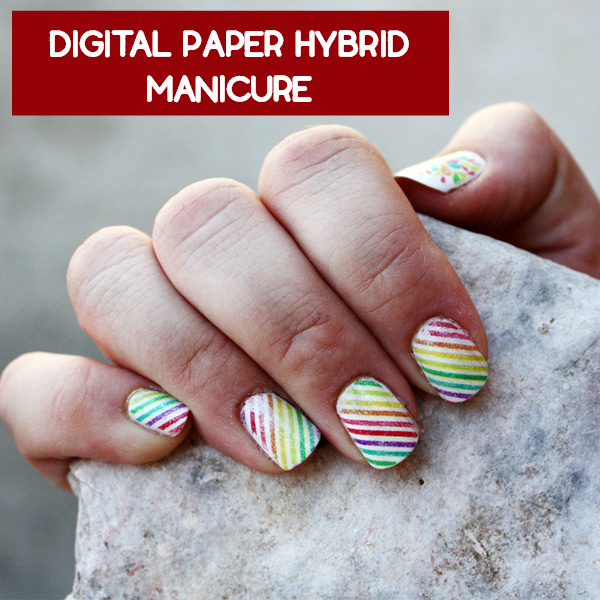 Note that this project uses a laser print of digital scrapbook paper. Inkjet prints are not recommended as the printing technology is different.  Ink bleeds into the paper whereas with a laser copy/print, the image "sits" on top of the paper making it easier to transfer.  You can try ink jet, but it usually does not work effectively. "Real" scrapbook paper bought from the store might also not work. The key is a laser print. This look can also be done using newspaper.  You can get digital paper on Etsy.
For your digital paper hybrid manicure you will need the following:
light color nail polish (white, light pink, cream, pale green, light turquoise etc.)
rubbing alcohol
small cup, such as a medicine cup
digital papers. Simpler designs work better.
nail polish topcoat
1) Before getting started,  measure your fingernails.  This doesn't need to be precise, but it's nice to have a general idea.
2) Open a new Photoshop document and create 10-15 boxes that are just a bit larger than your nails.  Something around 3/4 inch square will work.  You are making a few extra boxes than 10 to account for mistakes. Or, if you use something like Picmonkey, make a custom collage with 10-15 boxes.
3) Import your digital paper designs. You will likely need to reduce the scale of your paper so that the design will better fit your nails.  Clip your papers to the boxes that you created.
4) Print your page.  This tutorial used a laser printer.  Cut out all squares and set aside.
5) Paint your nails with your light colored nail polish, you may need multiple coats for an opaque base color.  Let your nails dry thoroughly.
6) Pour your alcohol into the small cup.  It should be deep enough that it can cover your finger.
7) Working with one nail at a time, dip your finger into the alcohol for 3-5 seconds and completely wet the nail.  Immediately press one of the paper squares onto your nail, image side down.  Do not move the paper around, but press on very firmly so that it is completely adhered.  Leave on for approximately 30 seconds and lift to remove.  If you notice that some paper fibers have been left behind, gently rub them away with a damp finger. Repeat for all fingers.
8) Paint a topcoat on your nails to protect.  A glittery nail polish can also be used as the topcoat.
The manicure can last about a week and there usually is no fading.
Pin This!