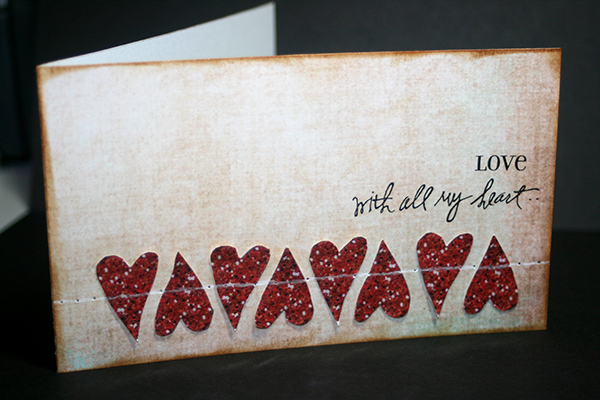 Have you ever wondered how to give your hybrid projects a little bit of a lift? You don't need to do much to give it some depth or a bit of a loved look! Just get out an ink pad, a sponge, sandpaper or an edge distresser and away you go.
Until I'd tried inking the edges of my paper scrapbooking pages, I didn't know what I had been missing. It made such a difference to a page or a photo mat or the edges of a box. It was the 'wow' factor I never knew existed right in my scrapbooking stash! So I'm going to run through a few easy and inexpensive ways of getting a grungy, vintagy, distressed or shabby look to your projects. This type of look may not be what you're after, but once you try it, I swear you'll use it over and over again!
I distress nearly everything I make whether it be hybrid or on my paper projects! I just love swiping ink around the edges of my papers (or even photos) to give them a bit of a lift. You'll notice what a difference it makes. Usually a dye ink of some sort will work the best because they are fast drying and won't smudge if you keep handling your project. I love Tim Holtz Distress Inks
and my favourite colours are Vintage Photo (caramel sort of colour) or Walnut Stain (dark chocolatey colour). These might be on the higher end of the pricing scale so if you can't find these, just go for a nice chocolate brown dye ink.
There are so many brands on the market and I'm sure you can pick up some from your local craft or scrapbooking store, even an office supply store. Don't get a pigment ink as these are thick and goopy and are more for embossing on your projects as they are slow-drying inks. You can buy a permanent ink such as Staz-On
for stamping on non-pourous surfaces such as plastic, metal or glossy surfaces (eg: photos) which is waterproof and fast drying. You can also use permanent inks if you're stamping and want to watercolour in the image and then the ink won't run or bleed. Dye inks are not waterproof. So I change inks depending on the project I'm doing. For distressing paper, use any dye ink and you'll be right.
Now onto applying your ink. You can just swipe the ink pad along the edges of your papers or use a small sponge to help apply it. If I use a sponge, I tap it on the pad a few times then work the ink into the edges of my paper and in a little bit more from the edge if I want to make the inking obvious. This gives a soft, feathery look that you can add to if you want it darker. If you swipe the ink pad directly onto the paper edge, it comes out very dark first go. Just have a play until you get the look you want. I still remember being in a class where the teacher inked her project and thinking that I'd never do it, but it does lift your work so much and gives it a lot more depth and character.
APPLYING INK WITH A SPONGE
Here's a card I made using Sugarplum Paperie products and you can see that the inked edges give the card the lift it needs.
APPLYING INK DIRECTLY WITH THE STAMP PAD
Another way to distress your work is to rough up the edges of your papers, photos or embellishments. I have a Heidi Swapp edge distresser which costs around $2 AUD so that's worth getting if you can find one. There are a variety of distressing tools on the market, but you can also open up a pair of scissors and run the edge of them along your paper to get the same effect. It will rough up the edges of your papers and make them a little furry depending on how much you do. Be careful not to tear your papers and a distressing tool works best with cardstock rather than thin, flimsy papers.
USING AN EDGE DISTRESSER OR SCISSORS TO DISTRESS EDGES
Here is a card I made using the inking method along with my edge distresser and scissors to make the papers very worn and shabby.
Another inexpensive item to keep in your stash is sandpaper or a sanding block. I always love to sand the edges of my papers and have also done it on many photos to create a very aged and worn look. Sanding will expose the paper/photo core which can add a lot of character and you can even ink the edges for further ageing.
USING SANDPAPER OR A SANDING BLOCK
And the final method of distressing that I just LOVE to use all the time is tearing or rolling and scrunching up your papers! It's very therapeutic you know! I know many of you may be very hesitant to try this, but it's easy and changes the whole look of a project. If you have an original photo, you may want to duplicate it and tear up the duplicate copy so as not to ruin a precious picture. But rip, scrunch and curl up the edges of your photos and papers to make them pop out more.
TEARING AND SCRUNCHING YOUR PAPERS AND PHOTOS
So have a play and don't be afraid to give your projects some character. These are just some of the many ways you can distress your work and remember to start slow and build up your distressing until you get the look that you're after.